The Tax Gap involves big numbers.
They're disputed numbers at that. I do not agree with HM Revenue & Customs on the size or composition of the gap, for example.
The Guardian has long taken an interest in this issue so it got  David McCandless to draw the gap usng data here: http://bit.ly/taxgap and from HMRC 2010 Report on the tax gap and the appendix to that report (contains interesting figures about Tax Havens) plus TaxResearch.Org.Uk.
The result is this image: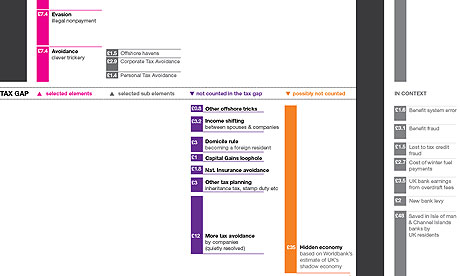 There's a bigger version here.
I'm not sure it's quite right: the extra corporate tax avoidance is not resolved, in my opinion.
And the additional uncollected tax not included in the HMRC data is not added in, and should be.
But it's a useful diagram all the same.