The Guardian has published this map this morning: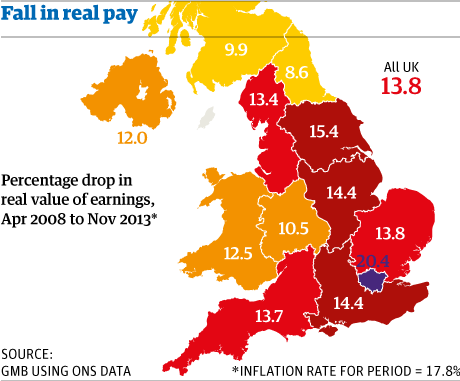 It's a depressing tale of why the UK is in an effective recession and full marks to the GMB for presenting its case so well.
The reality is that, as Larry Elliott argues this morning, there will be no real recovery in the UK without real wage increases.
Even John Cridland at the CBI now agrees. It's good to see that he does. It's a case that the TUC has been arguing for some time. It so happens to be the basis for Ed Miliband's whole pre-election strategy.
And it's right. Long ago Henry Ford realised that he would not sell cars in the mass market if his own workers could not afford to buy them. Now I suspect we have supermarket workers dependent on food banks whilst profits go on rising.
If 2014 is to deliver prosperity for all then the GMB, Larry Elliott, the CBI, TUC and Labour are right: Britain needs a wage rise. That is the economic cry for 2014.
I'm not expecting Osborne to adopt it.
PS If Labour is serious it has to end its suggested cap on public sector pay rises which sends out all the wrong messages now.