Eva Joly is one of my favourite people. I'm delighted to have her as a friend.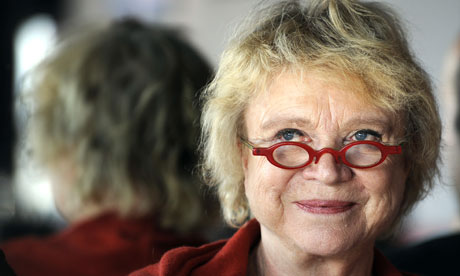 This morning the Guardian has run a really good profile of her, and her work. I warmly recommend it. Here's a little flavour:
Eva Joly does not look like Europe's most successful fraud prosecutor, the scourge of French boardrooms for decades. She is more than half an hour late as she sweeps into a cafe in Montparnasse from a cold, wet, grey Paris morning. Her eyes smile over natty, red-rimmed spectacles as she introduces herself in quiet tones, holding on to a handshake throughout, and apologises for her delayed arrival. Her French accent shows no trace of her Norwegian roots. Now a leading figure in the French Green party and an MEP, Joly is expected to run for president next year.
And:
Despite her 67 years, she is bristling with the same drive and determination, underpinned by a rare blend of political zeal and a lawyer's attention to detail. "I am not getting away from combating fraud," she says. "This is why I am going into politics. It's another way of fighting fraud in the interests of ordinary people, trying to prevent the oligarchy taking all the power and all the money … We have been living in a kind of collective illusion that this is how the world is — that the poor shall always be poor, ordinary people shall be squeezed to the benefit of a kind of oligarchy."
Despite her 67 years? Maybe because of. Most people haven't a quarter of her energy.
And she delivers. In the last week The Development Committee in the European Parliament adopted the report by the chairperson Eva Joly on "Tax and Development – cooperating with developing countries on promoting good government in tax matters".
The world needs more Eva's, but I'm delighted with the one we've got.